Cold Season Set
Tea for Colds II 100 g
Cold Season Herbal Bath 500 ml
Chest balsam Jojoba Oil 100 ml
Set consisting of:

Tea for Colds II
This tea mixture of elderflowers, linden flowers and willow bark is a proven herbal medicine to relieve early symptoms of febrile colds. Elderflowers and lime blossoms are often used to promote sweating and thus help to sweat out a cold. Willow bark has been used for a long time as a natural pain relieving domestic remedy. Rosehip peels and marigold flowers makes this soothing tea a harmonious blend.
Areas of application: Feverish colds when sweating is desired. For risks and side effects read the package insert and ask your doctor or pharmacist.
Cold Season Herbal Bath
A wonderful soothing bath additive that will help relieve respiratory congestion during the cough and cold season. With camphor and menthol and natural essential oils of pine needles, mountain pines, eucalyptus and Japanese mint. The healthy herbs oils evolve particularly well in warm water and release their beneficial, soothing properties when inhaled.
Chest Balm Jojoba Oil
The unique formula enriched with precious jojoba oil, camphor, rosemary, pine and eucalyptus oil is the secret of this soothing chest balm!
Jojoba oil smoothes and nourishes the skin and prevents it from drying out. The pure essential oils are soaked into the skin by the massaging of the chest, neck and back,evaporate partly due to body heat, and improve with every breath your physical well-being. The fresh, natural scent helps clear the mind. Additionally, massage promotes circulation and feels like a thermal poultice.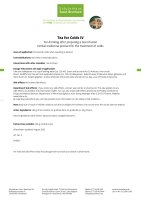 Download product information
Tea for Colds II
Ingredients: 100 g of tea contain: 30 g elderberry, 30 g lime blossoms, 35 g willow bark.
Dosage instructions and type of application: Use 1 tabelspoon per cup of boiling water (about 150 ml). Cover and let steep for 10 minutes. Strain and drink. Unless otherwise directed, drink several times a day a cup of freshly brewed tea.


Cold Season Herbal Bath
Ingredients: Glycine Soja Oil, PPG-5-Laureth-5, Caprylic/Capric Triglyceride, Eucalyptus Globulus Leaf Oil, Polysorbate 20, Abies Sibirica Oil, Zea Mays Germ Oil, Lecithin, Mentha Arvensis Herb Oil, Limonene*, Pinus Mugo Leaf Oil, Camphor, Menthol, Triticum Vulgare Germ Oil, Tocopherol, PEG-40 Hydrogenated Castor Oil, Helianthus Annuus Seed Oil, Retinyl Palmitate, Glyceryl Linoleate, Glyceryl Linolenate, Glyceryl Oleate, Propylene Glycol, Aqua, CI 75810.
*made from natural essential oils
The use not recommended for children under 6 years of age.


Chest Balm Jojoba Oil

Ingredients: Aqua, Cetearyl Alcohol, Simmondsia Chinensis Seed Oil, Caprylic/Capric Triglyceride, Pentylene Glycol, Glycerin, Cera Alba, Camphor, Eucalyptus Globulus Leaf Oil, Rosmarinus Officinalis Leaf Oil, Turpentine, Pinus Mugo Leaf Oil (Limonene, Linalool, Eugenol, Geraniol – from natural essential oils), Xanthan Gum, Sodium Cetearyl Sulfate, Tocopherol, Helianthus Annuus Seed Oil.
Application: Apply sufficient Chest Balm Jojoba Oil onto chest area, neck and back and massage gently.
Note: Do not use on infants and toddlers under 2 years!