Boswellia serrata Tablets
Art. No.: 87
180 tablets
22,90 €
from 3 items
now only

19,63 €
Excl. VAT plus shipping costs
Indian incense trees are one of the oldest known crop plants
Has a pleasant and health-promoting effect
A long tradition of frankincense in Indian cuisine
The Indian frankincense tree (Boswellia serrata) is the oldest known agricultural crop at all. The amazingly long tradition of incense in the Indian food proves its beneficial, health-promoting effect in many areas. Used is the resin (air-dried), that exudes after cutting the bark. This is known as Indian Frankincense. Particularly appreciated are the boswellic acids contained in the resin.

Each Boswellia tablet contains 400 mg Boswellia extract containing at least 70 % boswellic acids.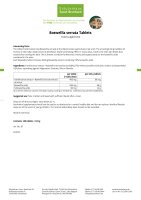 Download product information
Ingredients: Frankincense extract = Boswellia serrata extract (68%), filler microcrystalline cellulose, release agents magnesium stearate, sodium carboxymethyl cellulose filler.


per tablet
(= daily dose)

per 100 g tablets

frankincense extract = Boswellia-serrata-extract

400 mg

68 mg

of which

Boswellia acids

280 mg

49 g

ß-Boswellia acids

80 mg

14 g
No nutrient reference value for the daily intake according to VO (EU) No. 1169/2011 has yet been established.

Suggested use: Take 1 tablet unchewed with sufficient liquid after a meal.