Sanct Bernhard Sport Isotonic Energy Drink Blood Orange 900 g
Art. No.: 2526
900 g
16,82 €
(for every 1 kg = 18,69 €)
from 3 items
now only

15,14 €

(for every 1 kg = 16,82 €)
Incl. VAT plus shipping costs
Long-lasting effect and refreshing taste - specifically designed for endurance athletes!
Optimised composition of short and medium-chain carbohydrates
Supplies the body with the necessary energy during the phase of physical exertion
Highly compatible. Mainly also with fructose intolerance
Lactose-free and gluten-free
Long-lasting effect and refreshing taste - specifically designed for endurance athletes!

The optimised composition of the Aktiv3 Isotonic Energy Drink out of short and medium chain carbohydrates contributes to the maintenance of the endurance capacity during the endurance phase.. The added mineral substances replace the electrolytes lost through perspiration. In particular calcium and magnesium are decisive for good muscle function. A fluid loss equalling 2% body weight (1-2 l) leads to a drop in performance of approx. 20%. The quick replacement of lost fluids is therefore important.
Highly compatible. Mainly also in case of fructose intolerance.
Flavour: Blood orange
Lactose free and gluten free.
Content 900 g powder produces 25 portions (about 12.5 liter final beverage), 1 measuring spoon (inlying)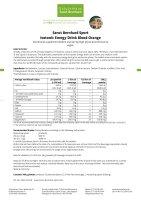 Download product information
---
Ingredients: Maltodextrin, Sucrose, Isomaltulose*, Natural Orange Flavour, Calcium Lactate, Sodium Chloride, Acidifier: Citric Acid, Tri-Magnesium Citrate, Potassium Citrate.
*Isomaltulose is a source of glucose and fructose.
Average nutritional values

per portion

(= 500 ml)

1 litre of beverage

*/1 litre of beverage

100 g powder

Caloric value

563 kJ

(132 kcal)

1127 kJ

(265 kcal)

—

1565 kJ
(368 kcal)

Fat

0 g

0 g

—

0 g

Carbohydrates

33.3 g

66.6 g

—

92.5 g

- of which is sugar

14.7 g

29.4 g

—

40.8 g

Fiber

0 g

0 g

—

0 g

Protein

0 g

0 g

—

0 g

Salt

0.8 g

1.6 g

—

2.2 g

Sodium

320 mg

640 mg

**

888 mg

Potassium

115 mg

230 mg

12 %

319 mg

Calcium

133 mg

266 mg

33 %

370 mg

Magnesium

69.75 mg

139.5 mg

37 %

193.8 mg
*% of the recommended daily intake according to NRV (Nutrient reference value for the daily intake according to VO (EU) No. 1169/2011)
** No reference value has yet been established

Recommended intake: Please dissolve according to the following instructions:
Measuring spoon (inlying) produces
2¼ (ca. 36 g) 500 ml
4½ (ca. 72 g) 1000 ml
To avoid clots please pour in the water first and then add the powder.
Note for diabetics: 0.5 litre (ca. 36 g powder) of beverage is equal to 2.6 BE.
Within the last hour before the start of a competition of for example over an hour 500 ml of the beverage preparation should be drunk. During the sport activity we recommend to drink regularly 150-200 ml every 15-20 minutes.
Straight after the activity we recommend the usage of our regeneration drink.