Zinc Tablets 10 mg
Art. No.: 1474
210 tablets
9,53 €
from 3 items
now only

8,41 €
Incl. VAT plus shipping costs
Zinc is one of the most essential trace elements, and undertakes countless functions within the human body
Zinc is involved in many metabolic processes
Supports the maintenance of healthy bones, hair, nails, skin and normal vision
Zinc plays an important role in a vital, healthy immune system and in the body's defences
Zinc is one of the essential trace elements and performs countless functions in the body. It is involved with a number of metabolic functions and supports the maintenance of healthy bones, hair, nails, skin and normal vision. Zinc plays an important role in a vital, healthy immune system and in the body's defences and contributes towards protecting cells against oxidative stress.

Each tablet contains 10 mg of zinc.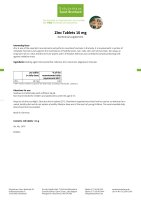 Download product information
Ingredients: Bulking agent Microcrystalline Cellulose, Zinc Gluconate, Magnesium Stearate.

Each tablet contains 10 mg of zinc.
per tablet

(= daily dose)

% of the recommended daily requirement NRV*

per 100 g

tablets

Zinc

10 mg

100

3 g
*NRV = Nutrient reference value for the daily intake according to VO (EU) No. 1169/2011

Directions for use: Swallow one tablet daily with sufficient liquid.
Not recommended for children and adolescents under the age of 17.