Vitamin D3+K2 capsules
Art. No.: 94
180 capsules
16,82 €
from 3 items
now only

15,14 €
Incl. VAT plus shipping costs
Nutritional supplement with vitamins D3 and K2 (Menachinon-7, MK-7)
Vitamin K2 supplements the beneficial effects of vitamin D
Vitamin D contributes to the maintenance of healthy bones, teeth and normal muscle function
Vitamin D plays a role in the function of the immune system
Vitamin K contributes to the maintenance of normal bones and normal blood clotting
Vitamin D3, the so-called "sun vitamin" is essential for many vital functions. Amongst other things, it contributes to the maintenance of healthy bones, teeth and normal muscle function and plays a role in the function of the immune system. Vitamin D should always be combined with vitamin K2 (Menachinon-7, MK-7). Vitamin K2 supplements the beneficial effects of vitamin D by making some of the vitamin-activated proteins more usable. It also ensures that calcium is brought into the bones and does not form deposits in the arteries and blood vessels. Vitamin K contributes to the maintenance of normal bones and normal blood clotting.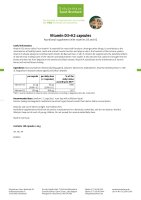 Download product information
Ingredients: Microcrystalline Cellulose (bulking agent), Gelatine, Vitamin D3, Maltodextrin (bulking agent), Vitamin K2 (Menachinon-7, MK-7), Magnesium Stearate (release agent) and Silicon Dioxide.


per capsule

per daily dose
(= 2 capsules)

% of the
daily intake
according to NRV*

per 100 g
capsules

Vitamin D3

25 µg (1000 I.U.)

50 µg (2000 I.U.)

1000

7 mg

Vitamin K2

100 μg

200 µg

267

26 mg
*NRV = Nutrient Reference Value for daily consumption according to Regulation (EU) No. 1169/2011

Recommended dose: Swallow 1-2 capsules 1 x per day with sufficient liquid.