tierlieb Vitamin-B-Complex for dogs and cats
Art. No.: 964
120 capsules
Was

8,41 €

now only

6,95 €

from 3 itmes
was

7,63 €

now only

6,17 €
-17%
Incl. VAT plus shipping costs
Vitamin B complex contains all B vitamins in a balanced combination for the prevention of vitamin B deficiencies.
Biotin contributes towards healthy skin and glossy fur.
Cholin supports the lipometabolism and the liver function.
Nutritional supplement with B-vitamins, biotin and choline.
Sufficient amounts of B-vitamins are essential for the metabolism and vitality because they are important for the nerves, mucous membranes and the skin. Tierlieb Vitamin-B-Complex Capsules contain a balanced combination of all B-vitamins to support the nerves of stressed dogs and cats and to prevent a lack of Vitamin B. In case of a vitamin B deficiency they tend to eat faeces and constantly scratch their skin. Especially young and breed animals need higher levels of B-vitamins. Biotin contributes towards a healthy skin and a shiny coat. Choline supports the lipometabolism and liver function.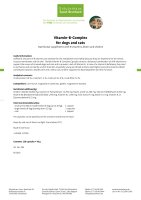 Download product information
Analytical contents: Crude protein 0.8 %, crude fat 1.2 %, crude ash 21.8 %, crude fibre 0.3 %.
Composition: Corn starch, magnesium carbonate, gelatin, magnesium stearate.
Nutritional additives/kg: Choline chloride 50,000 mg, Calcium-D-Pantothenate 12,700 mg, Niacin amide 12,200 mg, Vitamin B (Riboflavin) 6,450 mg, Vitamin B6 (Pyridoxine Hydrochloride) 1,950 mg, Vitamin B1 1,900 mg, Folic Acid 275 mg, Biotin 115 mg, Vitamin B 12 (Cyanocobalamin) 31 mg.
Feed recommendation/day:
- small and medium-sized breeds of dog (up to 20 kg): 1 capsule
- large breeds of dog (starting from 21 kg): 2 capsules
- cats: 1 capsule
The capsules can be opened and the contents mixed into the food.