tierlieb Magnesium Tablets for Horses
Art. No.: 1028
170 item
18,50 €
from 3 items
now only

16,82 €
Incl. VAT plus shipping costs
Magnesium helps reduce to fatigue and exhaustion
Supports a balanced electrolyte balance and energy metabolism
For support of muscle function
For a normal psychological function
With vitamin-B-complex
ADMR-compliant
Nutritional supplement to support the nerves and muscular system. Combination of highly pure mineral and organically bound magnesium.
Prevents deficiencies.
Magnesium helps reduce to fatigue and exhaustion
Supports a balanced electrolyte balance and energy metabolism
For support of muscle function
For a normal psychological function
With vitamin-B-complex
ADMR-compliant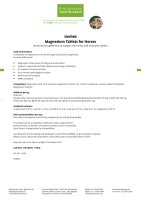 Download product information
Composition: Magnesium Oxid 32 %, Dextrose, Magnesium Citrate 5 %, Calcium Carbonate, Calcium-Sodium Phosphate, Magnesium Stearate.
Additives per kg:
Vitamins: Niacinamide 2,400 mg, Calcium-D-Pantothenate 1,570 mg, Vitamin B6 (Pyridoxinhydrochloride) 750 mg, Vitamin B1 940 mg, Vitamin B2 600 mg, Biotin 90 mg, Folic Acid 720 mg, Vitamin B12 (Cyanocobalamin) 8 mg.
Analytical contents: Crude protein 0.8 %, crude fat <1.0 %, crude fibre 21.6 %, crude ash 37.5 %, sodium 0.1 %, magnesium 20.0 %.
Feed recommendation per day:
One tablet (corresponds with 600 mg magnesium) per 100 kg body weight.
To compensate for a magnesium deficiency: Daily, added to feed.
Nervous horses: In advance of stressful situations and in rest periods.
Sport horses: in preparation for competitions.
According to the Anti-Doping and Medication Control Rules (ADMR), no grace period is required.
Please ensure a balanced composition of the daily rations and provide water to drink.