Super 20 Sun Protection Milk
Art. No.: 1371
250 ml
13,61 €
(for every 1 litre = 54,44 €)
Incl. VAT plus shipping costs
Offers medium sun protection with

Sun protection factor 20
Contains high dosage aloe vera gel, naturally pure jojoba oil, vitamin E, carrot oil, vitamin C, D-panthenol and natural moisturising factors
Supports the ability of the skin to remain moist, ensures a long-lasting tan, protects against sunburn, premature aging of the skin and drying out
Is absorbed quickly, is highly compatible and therefore also recommended for sensitive skin
An effective broad-spectrum sun protection product, which absorbs as many UV-B-rays as necessary, but at the same time it lets a controlled amount of UV-A-rays on the skin and so it makes a safe bronzing possible. Contains high-dosed aloe vera gel, naturally pure jojoba oil, vitamin E, carrot oil, vitamin C, D-panthenol and natural moisturising factors.
Aloe Vera gives moisture, protects the skin against reddenings and irritations and calms sensitive skin.
Jojoba oil gives the product special skin friendliness, makes the skin soft and smooth and gives it a natural protection.
Vitamin C+E protect the cells against free radicals, stimulate the blood circulation in the skin and intensify the bronzing.
D-panthenol has an anti-inflammatory effect and calms so reddenings and irritations.

Super 20 Sun Protection Milk also supports the skin's capacity to retain the moisture, ensures a a long-lasting tan, protects against sun burn, early skin aging and dehydration, prevents wrinkling, is well spread on the skin, is quickly absorbed, very well compatible and therefore also recommendable for sensitive skin. Sun protection factor 20.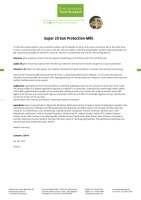 Download product information
Ingredients: Aqua, Caprylic/Capric Triglyceride, Ethylhexyl Methoxycinnamate, Propylene Glycol, Propylheptyl Caprylate, Aloe Barbadensis Leaf Juice, Diethylamino Hydroxybenzoyl Hexyl Benzoate, Pentylene Glycol, Simmondsia Chinensis Seed Oil, Ceteareth-12, Dimethicone, Zinc Oxide (nano), Cetearyl Alcohol, Tocopheryl Acetate, Panthenol, Xanthan Gum, Aloe Barbadensis Leaf Extract, Sodium Ascorbyl Phosphate, Glycine Soja Oil, Sodium Lactate, Sodium PCA, Sodium Cetearyl Sulfate, Lactic Acid, Fructose, Urea, Niacinamide, Inositol, Daucus Carota Sativa Root Extract, Beta-Carotene, Tocopherol, Lecithin, Ascorbyl Palmitate, Hydrogenated Palm Glycerides Citrate, Glycine, Triethoxycaprylylsilane, Phenoxyethanol, Dehydroacetic Acid, BHT, Benzoic Acid, Sodium Benzoate, Parfum.
Application: apply generously before sunbathing. Applying small amounts reduces the protection level. Avoid the strong midday sun. Repeat application regularly to maintain sun protection, especially after swimming. Protect babies and toddlers against direct sunlight and use protective clothing as well as sun cream with a high protection factor (SPF higher than 25). Even sun creams with high sun protection factors do not offer full protection against UV rays, therefore do not remain in the sun for too long. Avoid contact with the eyes and textiles - permanent stains are possible.