Self-tanning Cream
Art. No.: 1419
100 ml
6,55 €
(for every 1 litre = 65,50 €)
Incl. VAT plus shipping costs
Cream for healthy tanned skin without UV light
Helps you attain a healthy tan without the negative side effects of sun exposure
With vitamin E and ceramides, it can be used daily like a facial cream
Healthy, brown skin without UV light. Tanned skin suggests youth, success and holidays! And this though everybody knows that nothing else quickens the skin's aging so much like the UV light.
Our self-tanning cream helps you to get a healthy suntan completely without the negative adverse effects of the sunlight. The even tanning effect is based on a natural substance on a sugar base that tans the skin slowly and evenly. The complete suntan evolves after 2 to 4 days.
Worked into a caring and moisture giving cream basis, with vitamin E and ceramides, the self-tanning cream can daily be used such as a facial skin cream or body cream.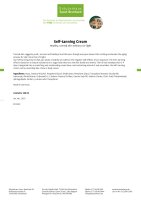 Download product information
Ingredients: Aqua, Cetearyl Alcohol, Propylene Glycol, Erythrulose, Pentylene Glycol, Tocopheryl Acetate, Saccharide Isomerate, Dimethicone, Cetheareth-12, Sodium Cetearyl Sulfate, Glycine Soja Oil, Sodium Citrate, Citric Acid, Phospholipids, Sphingolipids, Parfum, p-Anisic Acid, Tocopherol.