Sanct Bernhard Sport Regeneration Mineral Drink Premium Grapefruit
Art. No.: 2549
750 g
16,82 €
(for every 1 kg = 22,43 €)
from 3 items
now only

15,14 €

(for every 1 kg = 20,19 €)
Incl. VAT plus shipping costs
Nutritional supplement for increased requirements after physical exertion
Balanced combination of digestible carbohydrates, minerals and B vitamins
Lactose-free, gluten-free

Contents: 750 g powder produces at least 37 portions (approx. 18.75 litres of drink)
Nutritional supplement for increased requirements after physical exertion
Lactose-free, gluten-free
The body's energy and electrolyte stores are diminished after moderate exercise. In order to ensure that stores are effectively replenished, this drink contains a balanced combination of digestible carbohydrates and minerals. It also contains B vitamins for an effective energy metabolism. Magnesium and vitamins B2 and B6 and niacin help to prevent feelings of tiredness after exercise, whilst potassium supports a normal muscle function. This Regeneration Drink is ideal for use alongside our Isotonic Energy Drink.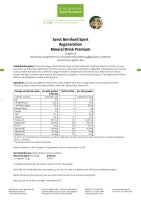 Download product information
---
Ingredients: Sucrose, Maltodextrin, Potassium Citrate, Acidifier Citric Acid, Trimagnesium Citrate, Sodium Chloride, Flavouring, Niacin, Vitamin B6 Hydrochloride, Vitamin B1 Mononitrate, Vitamin B2.
Average nutritional values

per daily portion

(=500 ml)

*/500 ml drink

per 100 g powder

Calorific content

278 kJ (65 kcal)

—

1389 kJ (327 kcal)

Fat

0 g

—

0 g

Carbohydrates

16,6 g

—

83 g

- of which sugars

8.5 g

—

42.5 g

Dietary fibres

0 g

—

0 g

Protein

0 g

—

0 g

Salt

0.7 g

—

3.5 g

Sodium

0.3 g

**

1.5 g

Potassium

426 mg

21

2130 mg

Magnesium

150 mg

40

750 mg

Niacin

9 mg

56

45 mg

Vitamin B6

0.96 mg

68

4.8 mg

Vitamin B2

0.8 mg

57

4 mg

Vitamin B1

0.8 mg

73

4 mg
*% of the recommended daily consumption according to NRV (Nutrient Reference Value for daily consumption according to Regulation (EU) No. 1169/2011)
**No reference value has yet been established
Note for diabetics: 500 ml (approx. 20 g powder) of drink is equivalent to 1.4 CE.
Recommended use: Please dilute in water as follows:
Measuring spoon (included) produces
1 ¼ (approx. 20 g) 500 ml
To avoid lumps forming, first add the water and then the powder.
Drink 500 ml immediately after exercising (e.g. race etc.) in order to replenish your fluids and carbohydrate stores.
Before and during the exercise phase, we recommend the use of our Aktiv3 isotonic energy drink.