Sabal Pumpkin Nettle Capsules
Art. No.: 866
180 capsules
27,48 €
from 3 items
now only

24,67 €
Incl. VAT plus shipping costs
Nutritional supplement with extracts of the Saw palmetto fruit (sabal), pumpkin seeds and nettle roots
Vitamin C, zinc and vitamin B help the body to protect cells from oxidative stress
Contents 180 capsules for 2 months
Saw palmetto fruit (sabal), pumpkin seeds and nettle roots are certainly no longer an "insider tip" - people now know that the extracts obtained from them are particularly appreciated by men of mature age. The supplemented vital substances vitamin C, zinc and vitamin B help the body to protect cells from oxidative stress, maintain normal testosterone levels and ensure the healthy functioning of the mucous membranes, which also benefits the sexual organs, bladder and prostate.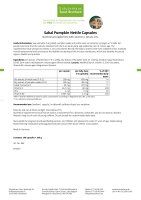 Download product information
Ingredients: Dry extract of nettle root 7-9: 1 (24%), Dry Extract of Pumpkin Seed 10: 1 (24%), Lactose (bulking agent), Gelatine, Sabal Fruit Extract (15%), Corn Starch (bulking agent), Silicon Dioxide (release agent), Maltodextrin (bulking agent), Tapioca Starch; Vitamin C, Zinc Gluconate, Vitamin B2, Magnesium Stearate (release agent).
per capsule

per daily dose

(=3 capsules)

% of NRV recommended daily dose*

per 100 g capsules

Dry extract of nettle root (7-9: 1)

150 mg

450 mg

**

24 g

Dried extract of pumpkin seeds (10:1)

150 mg

450 mg

**

24 g

Sabal fruit extract

90 mg

270 mg

**

15 g

Vitamin C

26.7 mg

80 mg

100

4.3 g

Zinc

2 mg

6 mg

60

0.3 g

Vitamin B2

0.467 mg

1.4 mg

100

75 mg
*NRV = Nutrient Reference Value for daily consumption according to Regulation (EU) No. 1169/2011
** no reference value available yet
Recommended use: Swallow 1 capsule 3 x daily with plenty of liquid at a mealtime. If there is no improvement in your symptoms, please contact your doctor.