Royal Jelly in Honey
Art. No.: 598
500 g
10,66 €
(for every 1 kg = 21,32 €)
Incl. VAT plus shipping costs
Fine, creamy blossom honey with 2% royal jelly
The sour-fresh taste blends perfectly with the mild sweetness of the blossom honey
Gluten-free, lactose-free, vegetarian
Royal jelly is the fabled sap that the bees produce for their queen. Only she is fed royal jelly all her life, while all other members of the colony have to settle for a mixture of pollen and nectar. Whether royal jelly is the secret of longevity and fertility of the queen bee remains controversial. In any case, the sour-fresh taste blends perfectly with the mild sweetness of the blossom honey, which is harvested in Baden-Württemberg using the art of traditional beekeeping. Our fine, creamy blossom honey contains 2% royal jelly. Gluten-free, lactose-free, vegetarian.

Honey is a natural product.
There may be natural variations in appearance, color and flavor. Almost every untreated honey crystallizes sooner or later, depending on the variety. Crystallization does not detract from the quality of the honey. Many connoisseurs prefer spreadable, crystallized, candied honey. By warming it in a water bath at temperatures of up to 40°C, the honey liquefies quickly.
Like other raw food products, honey should not be given to infants under the age of 12 months.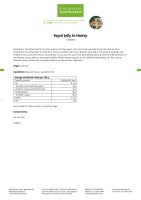 Download product information
---
Origin: Germany
Ingredients: Blossom honey, royal jelly (2 %).
Average nutritional values per 100 g:

Calorific content

1280 kJ/301 kcal

Fat

- of which saturated fatty acids

0 g

-of which unsaturated fatty acids

0 g

Carbohydrates

74 g

- of which sugars

73 g

Protein

0.7 g

Salt

0 g
Not suitable for infants under 12 months of age.