Pumpkin Seed Oil Capsules
Art. No.: 162
150 capsules each 500mg
Was

8,41 €

now only

6,73 €
-19%
Incl. VAT plus shipping costs
For a healthy prostate and bladder
From controlled organic cultivation
Exceptionally precious oil from the Cucurbita pepo L. convar. citrullina var. styriaca, which is rich in ingredients
Maintain a healthy prostate function and support bladder health.
The oil of the Styrian oil pumpkin Cucurbita pepo L. convar. Citrullina var. styriaca from controlled organic cultivation is considered as especially valuable.
Pumpkin Seed Oil Capsules support a healthy bladder and prostate and, when taken over a long period, contribute to maintaining the normal function of the urinary organs.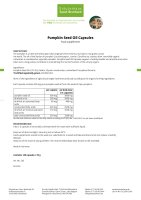 Download product information
Ingredients: Pumpkin Seed Oil * (74 %), Gelatin, Glycerin moisturizers, antioxidant Tocopherol Extracts of natural origin.
* Certified organic. DE-ÖKO-001.

82 % of the ingredients of agricultural origin have been produced according to the basic rules for organic farming.

Each capsule contains 500 mg of pure pumpkin seed oil from the seeds of ripe pumpkins.

Recommended daily dosage: Take 1-2 capsules 3 times daily with meals. The capsules should be swallowed whole with sufficient liquid.
per

capsule

per

daily dose

(=6 capsules)

per 100 g

capsules

Pumpkin seed oil

500 mg

3000 mg

74 g

including fat

500 mg

3000 mg

74 g

including saturated fatty acids

80 mg

480 mg

12 g

including unsaturated fatty acids

420 mg

2520 mg

62 g

including monounsaturated fatty acids

170 mg

1020 mg

25 g

poly unsaturated fatty acids

250 mg

1500 mg

37 g
No Nutrient reference value for the daily intake according to VO (EU) No. 1169/2011 has yet been established