Psyllium Seed Husk Powder
Art. No.: 1785
400 g
8,57 €
(for every 1 kg = 21,43 €)
from 3 items
now only

7,86 €

(for every 1 kg = 19,65 €)
Incl. VAT plus shipping costs
High swell volume
Rich in dietary fibre and mucins
Natural promotion of intestinal activity
Psyllium seed husks are the non-digestible husks of the Plantago ovata, plant native to India, which is known here as psyllium or flea seeds.
Psyllium seed husks are a purely natural source of valuable, mucilaginous dietary fibres. Ground to fine powder and mixed with water, psyllium seed husks swell to many times their original volume, and thus increase the intestinal contents.
Comparable to a lubricant in the intestines, the stool becomes softer, which facilitates intestinal activity and emptying.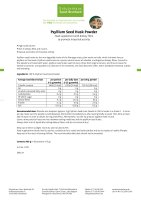 Download product information
Ingredients: 100 % Psyllium Seed Husk Powder
Recommended dose: Dissolve one teaspoon (approx. 5 g) Psyllium Seed Husk Powder in 200 ml water in a shaker 1 - 3 times per day. Make sure the powder is well dissolved. Drink either immediately or after leaving briefly to swell. Then drink at least 200 ml water in order to obtain the required effect. Alternatively, mix the dry product together with muesli.
Leave a time period of least one hour between taking medicines and the psyllium seed husks.
Always drink a lot of liquid after taking dietary fibres, and do not consume dry!
Average nutritional values

per portion

(= 5 g powder)

per daily dose

(= 15 g powder)

per 100 g powder

Calorific content

41 kJ (10 kcal)

124 kJ (31 kcal)

825 kJ (204 kcal)

Fat

0.01 g

0.02 g

0.1 g

of which saturated fatty acids

0.01 g

0.02 g

0.1 g

Carbohydrate

0.4 g

1.1 g

7.3 g

of which

- sugars

0.01 g

0.02 g

0.1 g

- dietary fibres

4.0 g

12.0 g

80 g

of which soluble dietary fibres

2.7 g

8.0 g

53 g

of which insoluble dietary fibres

0.6 g

1.7 g

11 g

Protein

0.1 g

0.4 g

2.9 g

Salt

0.01 g

0.03 g

0.2 g