Protective Balm
Art. No.: 1111
150 ml
8,57 €
(for every 1 litre = 57,13 €)
Incl. VAT plus shipping costs
For preventive and nourishing application
For stressed, strained body parts
Rubbing in the balm creates a protective and nurturing film on the skin
Natural extracts of calendula and birch bark
Constantly stressed areas of skin that are frequently exposed to friction become irritated and tend to become sore. This often affects the sensitive skin in the intimate area, but also under the arms, in the chest area or between the thighs. Rubbing in our protective balm creates a protective and nurturing film on the skin, stopping chafing. The skin becomes more resilient and elastic. Natural extracts of calendula and birch bark have an anti-inflammatory and soothing effect on stressed skin and thus contribute to regeneration.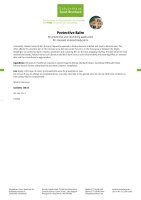 Download product information
Ingredients: Petrolatum, Paraffinum Liquidum, Glycine Soja Oil, Betula Alba Bark Extract, Calendula Officinalis Flower Extract, Daucus Carota Sativa Root Extract, Beta-Carotene, Tocopherol.
Use: Apply a thin layer of cream to stressed skin areas for prevention or care.
Do not use if you are allergic to composite plants. Use only externally in the genital area. Do not use with latex condoms as their safety may be compromised.