Panthenol Face Cream
Art. No.: 1180
100 ml
4,99 €
(for every 1 litre = 49,90 €)
Incl. VAT plus shipping costs
With 5% Dexpanthenol. Excellent for delicate, irritated and dry skin. The skin vitamin Dexpanthenol is also known as pro-vitamin B5, d-panthenol or simply panthenol. Calms and soothes irritated skin tangibly and visibly. Panthenol enhances the moisturizing effects on skin, strengthens the skin's natural protective barrier and supports skin cell regeneration. Moreover, panthenol has anti-itching and anti-inflammatory properties. Our tip: Very soothing after a sunbathing and a slight sunburn. Ideally suited for the care of delicate baby skin. Free of fragrances, colours and preservatives.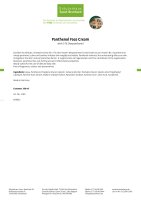 Download product information
Ingredients: Aqua, Panthenol, Propylene Glycol, Glycerin, Cetearyl Alcohol, Pentylene Glycol, Stearic Acid, Propylheptyl Caprylate, Palmitic Acid, Sericin, Sodium Cetearyl Sulfate, Potassium Sorbate, Xanthan Gum, Citric Acid, Tocopherol.