Oysters Maca Active Capsules
Art. No.: 838
120 capsules
14,02 €
from 3 items
now only

12,62 €
Excl. VAT plus shipping costs
Nutritional supplement for HER and HIM
With oyster concentrate, royal jelly, zinc, vitamin E and Peruvian maca root
The ingredient zinc helps maintain normal testosterone levels in the blood
Food supplement for HER and HIM with oyster concentrate, prickly pear blooms, royal jelly, zinc, vitamin E and the potential out of the Peruvian maca root. Oysters Maca Active capsules complete the daily alimentation with these important energy-giving substances. Zinc helps maintain normal levels of testosterone in the blood.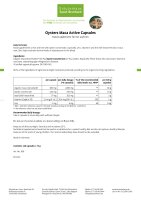 Download product information
Ingredients: Organic Maca Root Powder* (60 %), Oyster Concentrate (19 %), Gelatin, Royal Jelly freeze-dried, Zinc Gluconate, Vitamin E succinate, separating agent Magnesium Stearate.
*Certified organically grown. DE-ÖKO-001
80 % of the ingredients of agricultural origin have been produced according to the organic farming regulations.
 

per capsule

 

per daily dosage
 (=6 capsules)

% of the recommended daily intake acc. NRV*

per 100 g capusles

organic maca root powder

380 mg

2280 mg

**

60 g

Oyster concentrate

120 mg

720 mg

**

19 g

royal jelly freeze dried

17 mg

102 mg

**

3 g

vitamin E (alpha-TE)

5,9 mg (9 I.U.)

35,4 mg (54 I.U.)

295

928 mg

zinc

1 mg

6 mg

60

157 mg
* NRV = Nutrient reference value for the daily intake according to VO (EU) No. 1169/2011
** No reference value has yet been established
Recommended daily dosage: Take 2 capsules 3 times daily with sufficient liquid.
Not suitable for children under 17 years.
Do not use if you have asthma or a known allergy to Royal Jelly.