Organic Rosehip Capsules
Art. No.: 875
240 capsules
16,82 €
from 3 items
now only

15,14 €
Incl. VAT plus shipping costs
Pure, micro-fine ground powder of whole rosehips from controlled organic cultivation
Each capsule contains 500 mg rosehip powder
Benefit regularly, easily and conveniently from the full spectrum of contents of the best rosehips
Rosehips, the bright red fruits of the wild or dog rose, are a delicious, substantial gift from nature whose importance has been increasingly recognised in recent times. However, the seeds with their fine hairs or the kernels contained inside can sometimes make eating the fruit on its own very difficult. Organic rosehip capsules from Kräuterhaus Sanct Bernhard offer a practical alternative, because a daily dose of six capsules contains three grams of pure, micro-fine ground powder of whole rosehips from controlled organic cultivation. In this way, you can regularly, easily and conveniently benefit from the full spectrum of contents of the best rosehips!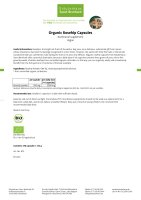 Download product information
---
Ingredients: Rosehip Powder* (84 %), Hydroxypropylmethylcellulose.
* from controlled organic cultivation.
per capsule

per daily dose

(= 6 capsules)

per 100 g capsules

Rosehip powder

500 mg

3000 mg

84 g
Nutrient Reference Value for daily consumption according to Regulation (EU) No. 1169/2011 not yet available.
Recommended use: Swallow 2 capsules 3 x daily with plenty of liquid. In case of good tolerability you can individually increase the intake to 3 x 3 capsules daily according to your requirements.