Omega 7 Sea Buckthorn Oil-Capsules
Art. No.: 198
100 capsules
24,11 €
from 3 items
now only

21,86 €
Incl. VAT plus shipping costs
The berries of the sea buckthorn (Hippophae rhamnoides L.) are one of our native fruits most rich in content
Sea buckthorn oil is held in high esteem for its positive effect on the gastrointestinal tract
The berries of sea buckthorn (Hippophae rhamnoides L.) are counted among the richest in substance and most unusual indigenous fruits. From of the fruit flesh can by a special separation process be made a deep red, pleasant fruity-fragrant oil, that stands out through its content of palmitic and palmitoleic acid, an Omega-7-fatty acid. Sea Buckthorn Oil is particularly appreciated because of its soothing effect on the mucous membranes of the esophagus and the stomach-intestinal tract.

Each capsule contains 500 mg pure, certified-organic sea buckthorn oil.
Recommended daily dose: 2-3 capsules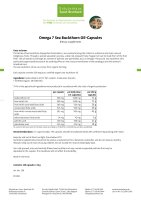 Download product information
Ingredients: Seabuckthorn oil (71 %)*, Gelatin, moisturizer Glycerin.
*Certified organic. DE-ÖKO-001
per capsule
per daily dose
(= 3 capsules)
per 100 capsules
Seabuckthorn oil
500 mg
1500 mg
71 g
of which fat
500 mg
1500 mg
71 g
of which saturated fatty acids
185 mg
555 mg
26 g
of which unsaturated fatty acids
315 mg
945 mg
45 g
of which monounsaturated fatty acids
301 mg
903 mg
43 g
of which polyunsaturated
fatty acids
14 mg
42 mg
2 g
palmitic acid
150 mg
450 mg
21 g
palmitoleic acid
125 mg
375 mg
18 g
No nutrient reference value for the daily intake according to VO (EU) No. 1169/2011has yet been established.
Recommended dose:
2-3 capsules daily. The capsules should be swallowed whole with sufficient liquid with a meal.