No More Bad Mornings Body Milk Lemon
Art. No.: 1132
250 ml
6,55 €
(for every 1 litre = 26,20 €)
Incl. VAT plus shipping costs
For skin that feels fresh and velvety soft
Our fruity, zesty body milk revitalizes your body
The perfect energy boost for dry skin
For skin that feels fresh and velvety soft!
Don't be a grouch! Our fruity, zesty body milk chases the tiredness from your eyes with its lemony scent and revitalizes your body for a refreshed feeling in the morning. Constant tiredness is a thing of the past. The nourishing ingredients give your skin moisture and make it soft, smooth and supple. The perfect energy boost for dry skin. Whether young or old, this full body care ensures a good mood from early to late.
For more lemony moments to combat bad mornings, we recommend the shower gel and hand cream from this series.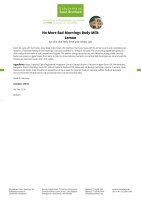 Download product information
Ingredients: Aqua, Caprylic/CapricTriglyceride, Propylene Glycol, Cetearyl Alcohol, Triticum Vulgare Germ Oil, Dimethicone, Pentylene Glycol, Zea Mays Germ Oil, Sodium Lactate, Sodium PCA, Ceteareth-12, Retinyl Palmitate, Glycine, Fructose, Urea, Niacinamide, Lactic Acid, Tocopherol, Helianthus Annuus Seed Oil, Inositol, Sodium Cetearyl Sulfate, Sodium Benzoate, Citrus Limon Peel Oil (Limonene, Citral, Linalool from natural essential oils).