Muskelfit Herbal Gel
Art. No.: 273
150 ml
12,10 €
(for every 1 litre = 80,67 €)
Incl. VAT plus shipping costs
Contains a combination of selected plant and herbal extracts
Especially beneficial after sports, hiking, strenuous housework or gardening, etc.
Nourishes and refreshes the skin and provides moisture
Pleasant, natural herbal fragrance
Without artificial scents
Soothing, cooling gel for strained, tense, tired muscles.
Muskelfit Herbal Gel contains a combination of selected plant and herbal extracts which, in combination with a massage, have a cooling, soothing effect on stressed, tense and tired muscles. Especially after sports, hiking, strenuous housework or gardening, etc., you will appreciate Muskelfit Herbal Gel as a real treat for the muscles!
Aloe vera, panthenol, menthol, mint oil, sorbitol and betaine nourish and refresh the skin and provide moisture. Extracts of arnica, rosemary, lavender, horse chestnut, butcher's broom and tiger grass ideally complement the soothing, caring effect. Muskelfit Herbal Gel has a pleasant, natural herbal fragrance without artificial scents.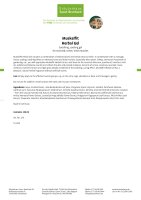 Download product information
Ingredients: Aqua, Alcohol Denat., Aloe Barbadensis Leaf Juice, Propylene Glycol, Glycerin, Sorbitol, Panthenol, Betaine, Xanthan Gum, Aesculus Hippocastanum Seed Extract, Centella Asiatica Extract, Mentha Arvensis Herb Oil (Limonene, Linalool – from the natural essential oil), Ruscus Aculeatus Root Extract, Hedera Helix Extract, Rosmarinus Officinalis Leaf Extract, Arnica Montana Flower Extract, Lavandula Angustifolia Flower Extract, Polygonum Fagopyrum Leaf Extract, Vitis Vinifera Leaf Extract, Troxerutin, Menthol, Aloe Barbadensis Leaf Extract, Phenoxyethanol, Benzoic Acid, Dehydroacetic Acid, Citric Acid.
Use: Simply apply to the affected muscle groups, e.g. on the arms, legs, shoulders or back, and massage in gently.
Do not use for toddlers. Avoid contact with eyes and mucous membranes.