Minesan Alkaline Mineral Herb Tablets
Art. No.: 214
250 tablets
Was

9,47 €

now only

8,08 €

from 3 itmes
was

8,60 €

now only

7,28 €
-14%
Incl. VAT plus shipping costs
Food supplement containing the alkaline minerals sodium, calcium and zinc
Minesan supports a balanced acid-base balance
Nutritional supplement with the basic minerals sodium and calcium, the trace element zinc and stomach friendly herbal extracts of chamomile and melissa.
Among other things, calcium contributes to normal function of digestive enzymes. The trace element zinc is a component of a variety of enzymes and makes a substantial contribution to a normal acid-base metabolism. In conjunction with a balanced, mineral-rich diet, Minesan supports a normal acid-base balance.
Minesan - acid-base balance
A healthy, well-balanced diet includes lots of fruit and vegetables and a little bit of meat. Thus the body gets enough basic, but only slightly acid forming foods.
Unfortunately our everyday diet is usually very different. Although the body has the possibility to compensate itself acid surpluses to some extent, but it may be sensible with long-term conditions to support the acid-base balance to counteract an ongoing acid excess.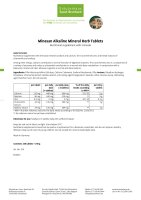 Download product information
Ingredients: Filler Microcrystalline Cellulose, Calcium Carbonate, Sodium Bicarbonate, filler Lactose, Disodium Hydrogen Phosphate, Chamomile Extract, Melissa Extract, anti caking agent magnesium Stearate, filler Silica, Glucose Syrup; thickening agent Xanthan Gum, Zinc Gluconate.


per tablet

per daily dose

( 4 tablets)

per daily dose

( 6 tablets)

% of the daily intake according
to NRV*

per 100 g tablets

Calcium

110 mg

440 mg

660 mg

55 / 83

11 g

Natrium

86 mg

340 mg

510 mg

**

9 g

Zinc

0,5 mg

2 mg

3 mg

20 / 30

0.1 g

Chamomile extract

34 mg

136 mg

204 mg

**

3 g

Melissa extract

34 mg

136 mg

204 mg

**

3 g
*NRV = Nutrient reference value for the daily intake according to VO (EU) No. 1169/2011
** No reference value has yet been established
Directions for use: Swallow 4-6 tablets daily with sufficient liquid.
Not suitable for children under 17 years of age.