Milk Thistle Capsules
Art. No.: 1811
90 capsules
14,02 €
from 3 items
now only

12,90 €
Incl. VAT plus shipping costs
Nutritional supplement with silymarin, choline and zinc
Each capsule contains 200 mg dry extract of milk thistle fruits
Each capsule contains 90 mg choline and 5 mg zinc
Contains 90 capsules for 3 months
The milk thistle (Silybum marianum) is a remarkably pretty, violet-flowering plant with spiky stems and leaves which belongs to the composite plants. It is mainly to be found in the Mediterranean region, and grows there on dry, stony ground, at the sides of paths and livestock pastures. From its seed-like fruit, an effective substance complex can be obtained which is named based on the scientific designation for the milk thistle, Silymarin.
Only healthy livers can produce bile, which is important for the digestion. This is why we have added the substance choline, which is like a vitamin and is proven to contribute towards a normal lipometabolism and helps maintain and normal, healthy liver function. The trace element zinc is a component of many enzymes and makes
an important contribution towards a normal metabolism, inlcuding fats, fatty acids, carbohydrates and proteins.
Each capsule contains 200 mg dry extract of milk thistle fruits.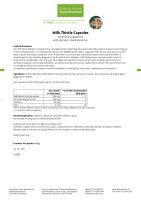 Download product information
Ingredients: Choline Bitartrate, Milk Thistle Fruit Dry Extract (29 %), Corn Starch (bulking agent), Gelatin, Zinc Gluconate, Magnesium Stearate (separating agent).


per capsule

(= daily dose)

% of NRV recommended daily dose*

per 100 g capsule

Milk thistle fruit dry extract

200 mg

**

29 g

of which silymarin (UV)

160 mg

**

23 g

Choline

90 mg

**

13 g

Zinc

5 mg

50

718 mg
*NRV = Nutrient Reference Value for daily consumption according to Regulation (EU) No. 1169/2011
** no reference value available yet
Recommended dose: swallow 1 capsule per day with sufficient liquid.