Marigold Comfrey Footbath
Art. No.: 1231
500 ml
Was

7,06 €

now only

5,54 €

(for every 1 litre = 11,08 €)
-21%
Incl. VAT plus shipping costs
Foot bath contains marigold and comfrey extract plus oil from 24 different herbs
Makes an excellent foot bath and full body bath
Helps bad circulation
It is excellently suited as footbath and full bath. Contains marigold and comfrey extract as well as oils that consiss of 24 different herbs.
Remedy for poor circulation, soothes tired legs. Marigold smoothens your skin!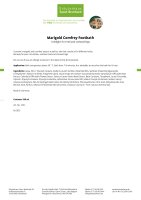 Download product information
Ingredients: Aqua, PEG-7 Glyceryl Cocoate, Sodium Laureth Sulfate, Oleamide DEA, Sorbitan Oleate Decylglucoside Crosspolymer, Sodium Chloride, Propylene Glycol, Potassium Cocoyl Hydrolyzed Collagen, Glycine Soja Oil, Symphytum Officinale Root Extract, Calendula Officinalis Flower Extract, Daucus Carota Sativa Root Extract, Beta-Carotene, Tocopherol, Glyceryl Linoleate, Glyceryl Linolenate, Helianthus Annuus Seed Oil, PEG-40 Hydrogenated Castor Oil, Retinyl Palmitate, Phenoxyethanol, Citric Acid, Dehydroacetic Acid, Benzoic Acid, Parfum, Mixture Of Essential Oils (Limonene, Linalool, Coumarin - from natural essential oil).
Note: Do not use this product if you are allergic to the Asteraceae (daisy) family.
Application: Bath temperature about 39 ° C. Bath time 7-8 minutes. It is advisable to rest after the bath for ½ hour.