Magnesium Capsules
Art. No.: 127
340 capsules each 150mg magnesium
12,34 €
from 3 items
now only

11,10 €
Incl. VAT plus shipping costs
An essential mineral substance that, among other things, contributes to normal energy metabolism
Contributes to normal muscle function
Each capsule contains 150 mg pure magnesium
Each tablet has 100mg pure magnesium.


---

Just like the vitamins, magnesium is one of the essential nutrients the human body needs to stay healthy. The body cannot produce magnesium itself. The essential mineral is found mainly in the bones, muscle cells and blood.
Magnesium contributes towards:
• Normal muscle function
• Reduction of tiredness and fatigue
• Normal metabolic energy rate
• Electrolyte balance
• Maintenance of normal bones and teeth
• Normal nervous system function
• Normal physical function
Magnesium also has a cell division function.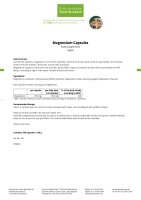 Download product information
Ingredients: Magnesium carbonate, gelatin, magnesium oxide, separating agent magnesium stearate.
per capusle
per daily dose
(= 3 capsules)
% of the daily intake according to NRV*
per 100 g capsules
Magnesium
150 mg
450 mg
120
24 g
* NRV = Nutrient reference value for the daily intake according to VO (EU) No. 1169/2011

Recommended dosage: Take 2-3 capsules over the course of a day unchewed with meals, to be swallowed with sufficient liquid.