Liposomes cream de la crème
Art. No.: 1338
125 ml
Was

19,67 €

now only

15,13 €

(for every 1 litre = 121,04 €)
-23%
Incl. VAT plus shipping costs
This cream stabilised the moisture balance
Maintains natural skin functions
Prevents fine lines from forming prematurely
Non-greasy, absorbs quickly into the skin leaving skin feeling naturally velvety soft.
Valuable active substances were added into these liposomes, which stabilise the moisture balance, maintain the natural skin functions, care the skin and prevent early wrinkling.
Encapsulated active substances:
Vitamin-E-liposomes stabilise vessels and cell membranes. As tanning intensification and for light protection.
Vitamin-A-liposomes for the stimulation of the cell division in the skin, dilution of the corneal layer by increased scaling off. Increased collagen structure and reduces the appearance of age spots. The sphingolipids are a component of the epidermal protective layer and of the water-lipid surface. Sphingolipids reduce the sensibility, improve the moisturising potential and the skins elasticity and offers a natural protection to it. This valuable cream is non-greasy, is quickly absorbed by the skin and leaves thereby a natural, silky-soft skin feeling.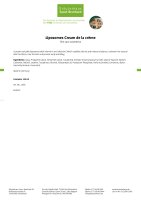 Download product information
Ingredients: Aqua, Propylene Glycol, Pentylene Glycol, Tocopheryl Acetate, Olea Europaea Fruit Oil, Glycine Soja Oil, Sodium Carbomer, Retinol, Lecithin, Tocopherol, Alcohol, Polysorbate 20, Potassium Phosphate, Parfum (Linalool, Limonene, Alpha-Isomethyl Ionone, Coumarin).