Lemon Body Milk
Art. No.: 1332
250 ml
6,55 €
(for every 1 litre = 26,20 €)
Incl. VAT plus shipping costs
Body milk for dehydrated skin
Perfect full body skincare after having a bath
For skin that dries prematurely because of ageing or external influences
With natural moisture retaining components
For the application with a skin, which is poor in moisture and it is especially suitable for the whole body care after a full bath. For a skin which dries early through aging or external influences (rough skin). Contains natural moisturising factors.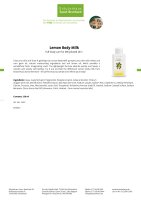 Download product information
Ingredients: : Aqua, Caprylic/Capric Triglyceride, Propylene Glycol, Cetearyl Alcohol, Triticum Vulgare Germ Oil, Dimethicone, Pentylene Glycol, Zea Mays Germ Oil, Sodium Lactate, Sodium PCA, Ceteareth-12, Retinyl Palmitate, Glycine, Fructose, Urea, Niacinamide, Lactic Acid, Tocopherol, Helianthus Annuus Seed Oil, Inositol, Sodium Cetearyl Sulfate, Sodium Benzoate, Citrus Limon Peel Oil (Limonene, Citral - from natural essential oil).