Lavender Oil Bath
Art. No.: 1250
750 ml
16,14 €
(for every 1 litre = 21,52 €)
Incl. VAT plus shipping costs
This oil bath strengthens the skin's circulation
Beneficial after intellectual and physical exertion
Non-foaming. Strengthens skin circulation, pleasant after mental and physical strain. A wonderful fragrant and calming refreshment and skin caring bath, that cannot be missing in any bath.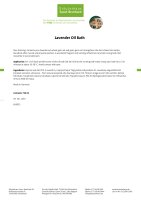 Download product information
Ingredients: Glycine Soja Oil, PPG-5-Laureth-5, Caprylic/Capric Triglyceride, Polysorbate 20, Lavandula Angustifolia Oil (Linalool, Geraniol, Limonene – from natural essential oil), Zea Mays Germ Oil, Triticum Vulgare Germ Oil, Lecithin, Retinyl Palmitate, Guaiazulene, Tocopherol, Glyceryl Linoleate, Glyceryl Linolenate, Propylene Glycol, PEG-40 Hydrogenated Castor Oil, Helianthus Annuus Seed Oil, Aqua.
Application: For 1 full bath sprinkle some of the oil bath (20 - 30 ml) into the running bath water. Enjoy your bath for 15-20 minutes at about 36-38 ° C. Avoid contact with eyes.