Iodine Seaweed Capsules
Art. No.: 825
180 capsules
Was

8,41 €

now only

6,67 €

from 3 itmes
was

7,28 €

now only

5,56 €
-20%
Incl. VAT plus shipping costs
Iodine is a vital trace element which contributes towards a healthy thyroid function
Iodine-sea algae capsules are a nutritional supplement with seal algae (100 µg iodine/capsule)
The daily intake of 1-2 iodine sea algae capsules can prevent iodine deficiencies
Like many reports and surveys show, Germany is a region where it exists a lack of iodine. He who secures his daily supply through additional administrations of iodine, makes therefore a valuable contribution for the maintenance of his health.
Iodine Seaweed Capsules are a food supplement with seaweed (100µg iodine/capsule) which is rich in iodine. Iodine is an essential element and trace mineral that the body needs in order to utilise thyroid hormones and is vital for a healthy thyroid function. Iodine is also needed for a normal energy metabolism and for a proper function of the nervous system. You can prevent a iodine deficiency by taking 1-2 Iodine Seaweed Capsules per day.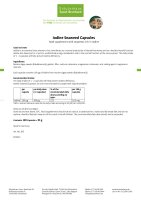 Download product information
Ingredients: Marine algea powder (bladderwrack), corresponding to 100 micrograms of iodine per capsule, gelatin, filler: calcium carbonate, magnesium carbonate, anti-caking agent: magnesium stearate.
per capsule
per daily dose
(= 2 capsules)
% of the daily intake according to NRV*
per 100 g capsules
Iodine
100 µg
200 µg
133
18.5 g
*NRV = Nutrient reference value for the daily intake according to VO (EU) No. 1169/2011

Directions: The daily intake of 1 - 2 capsules will help prevent iodine deficiency.
Iodine Seaweed Capsules are not recommended for people with hyperthyroidism.