Green Tea "Japan Sencha"
Art. No.: 15
150 g
Was

3,69 €

now only

2,99 €

(for every 100 g = 1,99 €)
-18%
Excl. VAT plus shipping costs
Popular green tea made according to the original Japanese recipe ("steamed tea")
Wonderful fresh scent
Full of character, very aromatic, pleasant semi-dry taste
Content: 150 g
Sencha ("steamed tea") is a very popular green tea in original Japanese style.
Its wonderful fresh scent, wonderful character, highly aromatic and slightly bitter taste, delights every tea connoisseurs.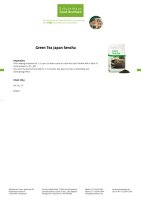 Download product information
Preparation: One heaping teaspoon for 1-2 cups. Let water come to a boil and cool it down with a dash of mineral water to 70 - 80°. Pour over the tea and let steep for 1-2 minutes. Our green tea has a revitalizing and stimulating effect.