Gelenkfit Rose Hip-Plus Drink Powder
Art. No.: 1788
30 sachets with 8 g each
30,84 €
(for every 1 kg = 128,50 €)
from 3 items
now only

28,03 €

(for every 1 kg = 116,79 €)
Incl. VAT plus shipping costs
Patented combination [EP2224939B1] of collagen hydrolyzate (Fortigel®) and rose hip extract as well as vitamin C
A targeted supplement for daily nutrition with nutrients that are essential for cartilage growth
Collagen-hydrolysate is essential for healthy joints
Patented combination [EP2224939B1] of collagen hydrolyzate (Fortigel®) and rose hip extract as well as vitamin C. The daily diet is supplemented with specific nutrients that are important for cartilage development, movement and strength of the joints; especially knees and hip joints. The rose hip, the red fruit from the wild rose (Rosa canina L.), has always been well-known and popular. It is widespread throughout the world and surprises with its versatility for use in teas, jams and fruit jellies. The peel from the southern rose hip is the basis for this newly developed special extract.
Collagen hydrolyzate (Fortigel®) is particularly important for the function of the joints because joint cartilage is made up of around 70 percent collagen. Collagen hydrolyzate is especially well absorbed by the body. Specially optimised collage peptides are proven to promote joint cartilage growth and therefore counteract wearing of the joints caused by age and strain. Vitamin C contributes towards normal production of collagen, which is required for healthy cartilage and bones.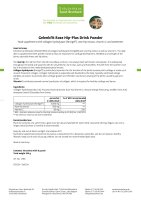 Download product information
Ingredients: Collagen Hydrolyzate (62,5 %), bulking agent Fructose, Rose Hip Extract (6.25 %), Vitamin C, Natural Orange Flavouring, acidifier Citric Acid, sweetener Steviol Glycosides from Stevia.
per sachet
(= daily dose)

% of NRV recommended daily dose*

per 100 g

Collagen hydrolyzate (Fortigel®)

5,000 mg

**

62,5 g

Rose hip extract

500 mg

**

6.25 g

Vitamin C

80 mg

100

1 g
* NRV = Nutrient reference value for the daily intake according to VO (EU) No. 1169/2011
** No reference value has yet been established
Recommended use: Place the contents of a sachet into a glass once per day and add 200 ml water while constantly stirring. Regular use over a longer period (at least 3 months) is recommended.