Gelenkfit Capsules
Order 1 and 1 will be free in the cart!
Gelenkfit capsules contain calcium, magnesium, and vitamins B1, B2, B6, B12, C
Niacin, pantothenic acid, folic acid and biotin as well as glucosamine and chondroitin
Calcium and magnesium contribute towards normal muscle function
For healthy, sturdy bones
Gelenkfit Capsules contain calcium, magnesium and the vitamins B1, B2, B6, B12, C, niacin, pantothenic acid, biotin and folic acid as well as the mucopolysaccharides glucosamine and chondroitin.
Calcium and magnesium contribute to normal muscle function and are essential for healthy, sturdy bones. Vitamin B2 (riboflavin), niacin and biotin support the maintenance of normal skin and mucous membranes. Pantothenic acid contributes to a normal synthesis and to a normal metabolism, among other things of vitamin D. Folic acid plays a role in the process of cell division. Glucosamine and chondroitin are natural components of connective tissue, cartilage and joint fluid. Vitamin C contributes to a normal formation of collagen and the function of the joint cartilages.
We recommend Gelenkfit Capsules also to all customers who take Gelat-PLUS®.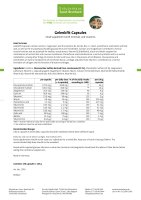 Download product information
Ingredients: Gelatin, glucosamine sulfate derived from crustaceans, chondroitin sulfate, calcium carbonate, magnesium carbonate, Vitamin C, Magnesium stearate, niacin, calcium-D-pantothenate, vitamin B6 hydrochloride, vitamin B2, vitamin B1 mononitrate, folic acid, biotin, vitamin B12.


per capsule

per daily dose
(= 6 capsules)

% of the daily intake according to NRV*

per 100 g

capsules

Glucosamine sulfate

170,0 mg

1020 mg

**

25 g

Chondroitin sulfate

100,0 mg

600 mg

**

14 g

Magnesium

25,0 mg

150 mg

40

4 g

Calcium

40,0 mg

240 mg

30

6 g

Vitamin C

15,0 mg

90 mg

113

2 g

Niacin

4,0 mg

24 mg

150

577 mg

Pantothenic acid

1,5 mg

9 mg

150

216 mg

Vitamin B2

0,35 mg

2,1 mg

150

51 mg

Vitamin B6

0,35 mg

2,1 mg

150

51 mg

Vitamin B1

0,28 mg

1,7 mg

150

40 mg

Folsic acid

50,0 µg

300 µg

150

7 mg

Biotine

12,5 µg

75 µg

150

2 mg

Vitamin B12

0,63 µg

3,8 µg

150

91 µg
*NRV = Nutrient reference value for the daily intake according to VO (EU) No. 1169/2011
** No reference value has yet been established.
Recommended dosage: Take 2 capsules 3 times daily. Capsules should be swallowed whole with a sufficient amount of liquid.
People with impaired glucose tolerance or who take coumarin anticoagulants should seek the advice of their doctor before taking this nutritional supplement.