Creatine Magnesium Capsules
Order 2 and 1 will be free in the cart!
Capsules with creatine, an essential substance naturally found in muscle cells
Magnesium contributes to healthy energy metabolism and to reducing fatigue and tiredness
Especially for people over the age of 50
For sports and physical exertion
Creatine is a body's ownsubstance that we need for normal daily functions. It is stored in the muscle cells. A nutritional supplement containing creatine is particularly important for people with little creatine in their diet (e.g. from meat or fish). Fruit and vegetables contain only trace amounts of creatine. Above all, persons from the age of 50 need a completion with creatine, since in older adults the storage capacity of creatine in the body is considerably reduced.
Magnesium contributes to normal energy-yielding metabolism and the reduction of tiredness and fatigue. Magnesium also plays a role in normal muscle function; especially when engaging in physical activities like sports and exercise.
Since we use more magnesium and creatine when under stress, strain and sport, a daily food supplement is appropriate.
Each capsule contains 400 mg creatine and 25 mg magnesium.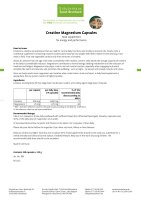 Download product information
Ingredients: Creatine-Monohydrate (67 %), Magnesium Carbonate, Gelatin, anti-caking agent Magnesium Stearate.


per capsule

per daily dose
(=9 capsules)

% of the recommended daily dose according to NRV*

per 100 g capsules

Creatine

400 mg

3600 mg

**

67 g

Magnesium

25 mg

225 mg

60

4 g
* NRV = Nutrient reference value for the daily intake according to VO (EU) No. 1169/2011
** No reference value has yet been established
Recommended dosage: Take 2 to 3 capsules 3 times daily swallowed with sufficient liquid (no caffeinated beverages). Already 6 capsules cover 40 % of the daily dose of magnesium of an adult.
At increased demand due to sports and fitness can be taken 4 to 5 capsules 3 times daily.
Please ask your doctor before the ingestion if you have any heart, kidney or liver diseases.