Coenin Q10 PLUS Capsules
Art. No.: 1809
150 capsules
23,36 €
from 3 items
now only

21,50 €
Excl. VAT plus shipping costs
Coenzyme Q10 is an important component of our daily diet
Q10 intake is particularly recommended in old age and if your diet is not well-balanced.
The contained antioxidants selenium and vitamin E protect the body from oxidative stress
Selenium also contributes towards the normal function of the immune system
Coenzyme Q10 is an important component of our daily diet. Extra Q10 intake is particularly recommended for older age groups and/or if your diet is unbalanced. In addition are contained the antioxidants selenium and vitamin E to protect the body against oxidative stress. Selenium also contributes to the normal function of the immune system. This combination is completed with eight valuable B-vitamins. Niacin, pantothenic acid and thiamine (vitamin B1) contribute to a normal energy metabolism. Thiamine also supports a healthy, normal heart function.
Each capsule contains 50 mg natural coenzyme Q10 plus 27 I.E. vitamin E, 55 µg selenium, 45 mg magnesium, 24 mg niacin, 9 mg panthothenic acid, 2.1 mg vitamin B6, 2.1 mg vitamin B2, 1.65 mg vitamin B1, 300 µg folic acid, 75 µg biotin and 3.75 µg vitamin B12. 
Coenzym Q10
Enzymes are key biological catalysts which allow reactions and life processes to take place in the cells in all living organisms. Enzymes require so-called coenzymes - wherein the coenzyme Q10 plays a particularly important role.
Coenzyme Q10 is one of the body's own substances belonging to the group of vitaminoids. It contains substances similar to vitamins and is an important part of our daily nutrition. Q10 is primarily found in the organs such as the heart, liver and kidneys.
The necessary amount of Q10 is ensured with self-synthesis in a healthy human organism. The content of Q10 in the serum and tissues naturally decreases with age or when taking statins.  
Best Q10 quality
In our products we only use pure, 100% natural Q10 of the highest quality (KANEKA), produced through yeast fermentation; it is absolutely identical to the Q10 produced in the body.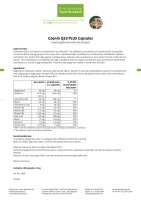 Download product information
Ingredients:
Magnesium carbonate, gelatin, coenzyme Q10 (12 %), niacin, vitamin E, succinate, bulking agent maltodextrin, calcium-D-pantothenate, anti-caking agent: magnesium stearate; vitamin B2, vitamin B6-hydrochloride, vitamin B1-mononitrate, folic acid, sodium selenite, biotin, vitamin B12.
 

per capsule

per daily dose

(= 2 capsules)

% of NRV recommended daily dose*

per 100 g capsule

Magnesium

45 mg

90 mg

24

10 g

Vitamin E

18.2 mg

(27 I.E.)

36.4 mg

300

4 g

Coenzyme Q10

50 mg

100 mg

**

12 g

Niacin

24 mg

48 mg

300

6 g

Pantothenic acid

9 mg

18 mg

300

2 g

Vitamin B2

2.1 mg

4.2 mg

300

487 mg

Vitamin B6

2.1 mg

4.2 mg

300

487 mg

Vitamin B1

1.65 mg

3.3 mg

300

383 mg

Folic acid

300 µg

600 µg

300

70 mg

Biotin

75 µg

150 µg

300

17 mg

Selenium

55 µg

110 µg

200

13 mg

Vitamin B12

3.75 µg

7.5 µg

300

0.9 mg
* NRV = Nutrient reference value for the daily intake according to VO (EU) No. 1169/2011
Recommended use:
As a dietary supplement, take 1-2 capsules with sufficient liquid in the morning.