Clear Gourmet Broth
Art. No.: 149
340 g
Was

8,75 €

now only

7,63 €

(for every 1 kg = 22,44 €)
-12%
Incl. VAT plus shipping costs
Pure Nature in each spoonful
With a balanced composition of vegetables and herbs from controlled organic cultivation
They are ideal for seasoning and refining soups, sauces and vegetable dishes
Pure natural you can taste with every spoonful!
With a delicate balanced composition of vegetables and herbs from controlled biological cultivation. Purely vegetable, vegan, gluten-free, lactose-free, without added flavor enhancers. Powerful, spicy, very efficient.
Strong, spicy, very rich. Simply doused with hot water or with noodles or rice – a real pleasure. Ideal for spicing and refining soups, sauces and vegetable dishes etc.
Fine cuisine can be so easy and delicious!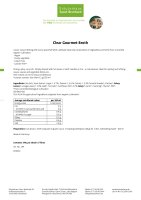 Download product information
Ingredients: Sea salt, yeast extract, cane sugar *, 5.7%, onions *, 2.6 % carrots *, 2.3% tomato powder*, vegetable oil* (palm oil*), celery leaves*, parsley*, lovage*, 1.0% leek*, turmeric*, 0.7% celery*, garlic *, dill*, thyme*, nutmeg*.
*of controlled biological cultivation
DE-ÖKO-001
55.6 % of the agricultural ingredients originate from organic cultivation
Ø Nutritional values per 100 ml:

Energy value

15 kJ/3 kcal

Fat

0,1 g

-of which are saturated fatty acids

0 g

Carbohydrates

0,4 g

- of which is sugar

0,3 g

Fibres

0,1 g

Proteins

0,3 g

Salt

1,0 g
Preparation: Use about 1 level teaspoon (3 g) per cup or 1 heaping tablespoon (20 g) for 1 liter. Add boiling water - Done!
Contents: 340 g to obtain 17 litres