Calcium-Magnesium Tablets
Art. No.: 169
400 tablets
7,94 €
from 3 items
now only

7,01 €
Excl. VAT plus shipping costs
Magnesium supports muscular function, especially in those who do sport or exercise
Calcium and magnesium are essential minerals
Magnesium and calcium are minerals that are essential for various functions and metabolic processes in the human organism. Calcium also plays a key role in the formation of the mineral substance in the bones and teeth. Morevoer, calcium plays a role in cell division and the metabolic energy rate. Magnesium supports a normal muscle function, especially in sports and physical activity and promotes the well-being - also at night -, helps muscles and calf muscles to relax and loosen up. 
Each tablet contains 300 mg calciumcarbonat equivalent to 120 mg calcium and 50 mg magnesium. 1.25 µg vitamin D3 contributes towards the absorption and utilisation of calcium.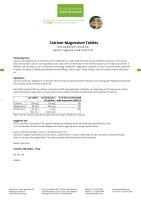 Download product information
Ingredients: Calcium Carbonate, Magnesium Carbonate, fillers Cornstarch, Microcrystalline Cellulose, anti-caking agent Magnesium Stearate, filler carboxymethyl cellulose, Vitamin D3.
 

per tablet

per daily dose

(=6 tablets)

% of the recommended daily requirement (NRV )*

per 100 g tablets

Calcium

120 mg

720 mg

90

16 g

Magnesium

50 mg

300 mg

80

7 g

Vitamin D3

1.25 µg

7.5 µg

150

0.2 mg
*NRV = Nutrient reference value for the daily intake according to VO (EU) No. 1169/2011
Suggested use: Take 2 capsules 3 times daily. The capsules should be swallowed whole with sufficient liquid before a meal. The regular use of Calcium Magnesium Tablets over an extended period of time is recommended.