Calcium Capsules
Calcium is a mineral which is important for many functions within the human organism
Calcium also plays a key role in the formation of the inorganic substance in the bones and teeth
Contributes towards normal muscle function and blood clotting
Each capsule contains 625 mg calcium carbonate (corresponding to 250 mg pure calcium)
Calcium is a mineral which is important for many functions within the human organism. Calcium also plays for example a key role in the formation of the inorganic substance in the bones and teeth. Calcium also contributes towards a normal muscle function, blood coagulation and signal transmission between the nerve cells.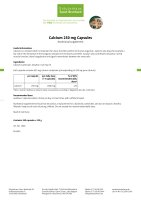 Download product information
Ingredients: Calcium Carbonate, Gelatine, filler Corn Starch.
Each capsule contains 625 mg calcium carbonate (corresponding to 250 mg pure calcium).


per capsule

per daily dose

(= 4 capsules)

% of NRV recommended daily dose*

per 100 g capsule

Calcium

250 mg

1000 mg

125

33 g
*NRV = Nutrient Reference Value for daily consumption according to Regulation (EU) No. 1169/2011
Recommended dose: swallow 2 capsules whole 2 times per day at meal times with sufficient liquid.