Bolognese Sauce
Art. No.: 619
600 g
14,47 €
(for every 1 kg = 24,12 €)
Incl. VAT plus shipping costs
Full-bodied, fruity Mediterranean delicacy
Vegan, with soy
Easy and quick preparation
Without hydrogenated fats, flavour-enhancing additives and added flavours
Enjoy the flavour of a classic Bolognese sauce
Vegan
With soy
It's sure to become your new favourite sauce! Try this full-bodied, fruity Mediterranean delicacy with pasta, lasagne, spaghetti and more! Completely free of animal ingredients, but without compromising on flavour and quality - thanks to soy instead of minced meat. With the flavour of a classic Bolognese sauce with ripe tomatoes, herbs, carrots, onions and peppers, but also its typical hearty "bite", this sauce will be a treat your taste buds. And it's purely vegetable-based, without hydrogenated fats, flavour-enhancing additives and added flavours. Let yourself be surprised by the easy and quick preparation: Simply stir into cold water, bring to the boil briefly and enjoy. Bon appetit!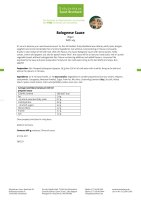 Download product information
---
Preparation: Stir 4 heaped tablespoons (approx. 50 g) into 250 ml of cold water with a whisk, bring to the boil and simmer for about 2-3 minutes.
Ingredients: 21 % Tomato Powder, 21 % Soy Granules, Vegetables in variable proportions (Carrots, Onions, Peppers, Leek powder, Courgettes, Beetroot Powder), Sugar, Palm fat, Rice flour, Seasoning (contains Soy), Sea Salt, Maize Starch, Spices, Yeast Extract, Citric Acid (acidifier), Herbs, Guar Gum, Salt.
Average nutritional values per 100 ml

prepared sauce

Calorific content

282 kJ/67 kcal

Fat

1.4 g

- of which saturated fatty acids

0.7 g

Carbohydrates

8.8 g

- of which sugars

6.0 g

Dietary fibres

2.2 g

Protein

3.7 g

Salt

1.6 g