Beauty-Drink for Men
Art. No.: 283
600 ml
24,79 €
(for every 1 litre = 41,32 €)
from 3 items
now only

22,69 €

(for every 1 litre = 37,82 €)
Excl. VAT plus shipping costs
Nutritional supplement with collagen peptides (VERISOL®), hyaluronic acid, vitamins, zinc and copper
Selected vitamins and minerals complement nourishment from within for men - simply and effectively
Pleasant, fruity and tart flavour
One bottle daily for a more attractive and healthier appearance
Nutritional supplement with collagen peptides, hyaluronic acid, vitamins, zinc and copper. 
The "beauty secret" of many men? Go for a walk once a week, eat plenty of hearty food, no sport. No wonder that the appearance leaves a lot to be desired over the years. Now the time has arrived for the Beauty-Drink for Men! The coordinated formula with collagen peptides and hyaluronic acid gives more elasticity and firmness to saggy skin with regular use, reduces wrinkles, promotes firm connective tissue and beautiful nails. Caffeine and copper provide the kick for more power and energy. Selected vitamins and minerals complement nourishment from within for men - simply and effectively. A pleasant, fruity and tart flavour. A bottle a day for a more attractive, healthier appearance!
Collagen peptides (VERISOL®) play a major role in achieving strong bones, supple joints and a beautiful, firm skin.
Hyaluronic acid is a natural element of the skin and connective tissue. Its ability to absorb large amounts of water supports the elasticity and suppleness of the skin.
Vitamin C contributes towards the production of collagen, and therefore towards the normal, healthy function of bones, cartilage, skin and teeth.
Copper contributes towards the retention of normal, firm connective tissue and normal energy metabolism as well as healthy pigmentation of skin and hair.
Zinc and biotin are important beauty substances for the development and retention of strong hair and a beautiful, radiant skin.
Vitamin E, zinc and copper play a role in protecting the cells against free radicals, also known as oxidative stress.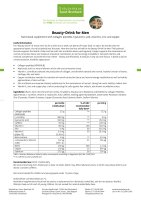 Download product information
Ingredients: Water, juice concentrate from aronia, strawberry, blackcurrant, blackberry and elderberry; collagen peptides (11.3%), agave nectar, L-carnitine, vitamin C, hyaluronic acid (0.5%), caffeine, bulking agent maltodextrin, preservative potassium sorbate, zinc gluconate, vitamin E acetate, copper gluconate, beta carotene, biotin, sodium selenite.
 

per bottle
(=daily dose)

% of NRV recommended daily dose*

per 100 g

 

Collagen peptides
(VERISOL®)

2.5 g

**

11.3 g

L-carnitine

500 mg

**

2.3 g

Hyaluronic acid

100 mg

**

453 mg

Caffeine

50 mg

**

226 mg

Vitamin C

80 mg

100

362 mg

Zinc

5 mg

50

22.6 mg

Vitamin E

(alpha-TE)

3.6 mg

(5.38 I.E)

30

16.3 mg

Beta carotene

1 mg

**

4.5 mg

corresponds to Vitamin A (RE)

167 µg (557 I.E.)

21

756 µg

Biotin

250 µg

500

1.1 mg

Copper

150 µg

15

679 µg

Selenium

27.5 µg

50

124 µg
*NRV = Nutrient Reference Value for daily consumption according to Regulation (EU) No. 1169/2011
** no reference value available yet

Recommended use: Drink 1 bottle daily.
We recommend long-term intake over at least 12 weeks. Biotin may affect laboratory tests, in which case please inform your doctor. Contains caffeine. 
Not recommended for children and young people under 17 years of age.