"Back of the Hand" Care Cream
Art. No.: 1258
125 ml
7,67 €
(for every 1 litre = 61,36 €)
Incl. VAT plus shipping costs
Order 1 and 1 will be free in the cart!
Ideal for the skin around the eyes, the face, hands, backs of hands and backs of fingers including the nail beds
Particularly suitable for areas of skin prone to wrinkles
Also good for chapped body areas such as elbows and knees
Ensures perfect skin care
A top product of our company that has already delighted tens of thousands of customers!

For areas of skin extremely prone to wrinkles, such as around the eyes, face, neck, back of the hand and fingers, the nail area and for the chapped skin of the elbows and knees. "Back of the Hand" Care Cream is a perfect skin care product!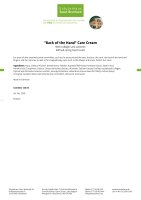 Download product information
Ingredients: Aqua, Cetearyl Alcohol, Dimethicone, Sorbitol, Isopropyl Palmitate, Pentylene Glycol, Stearic Acid, Palmitic Acid, Tocopherol, Daucus Carota Sativa Root Extract, Allantoin, Sodium Cetearyl Sulfate, Hydrolyzed Collagen, Glycine Soja Oil, Beta-Carotene, Lecithin, Ascorbyl Palmitate, Hydrogenated Palm Glycerides Citrate, Parfum (Hexyl Cinnamal, Linalool, Alpha-Isomethyl Ionone, Citronellol, Limonene, Coumarin).