Apricot Kernel Oil
Art. No.: 656
100 ml
Was

4,94 €

now only

3,94 €

(for every 1 litre = 39,40 €)
-20%
Incl. VAT plus shipping costs
High unsaturated fatty acid content
Strengthens the barrier function of the skin
Supports moisture-absorbing capabilities and protects against drying out
Cares for dry, irritated and aging skin
Apricot kernel oil is chosen from the inner almond of the stone of selected ripe apricots, induced by purely mechanical compression. The fine bitter-almond-aroma thereby becomes especially apparent. Its high content of unsaturated fatty acids makes it so precious. Apricot kernel oil strengthens the barrier-function of the skin, supports its ability to the moisture-absorption and protects it from dehydration. It is therefore suitable particularly for the care of dry, irritated and aging skin but also for baby care. Parfume free!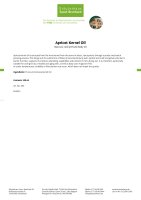 Download product information
---
Ingredients: Prunus Armeniaca Kernel Oil.