tierlieb Ginkgo- Powder Feed for dogs and horses
Art. No.: 1030
400 g
13,45 €
(for every 1 kg = 33,63 €)
Incl. VAT plus shipping costs
Feed for dogs and horses
The force of nature for body and soul
For a natural, balanced diet
Tested premium quality
Feed for dogs and horses.
Fine ginkgo powder obtained from the fresh leaves of the Ginkgo biloba plant native to Asia. The leaves of the ginkgo tree are rich in valuable vital substances (for example ginkgolides), which offer both older and active dogs and horses an invigorating, natural supplement to their daily feed. Due to the fine level of grinding, tierlieb ginkgo powder is easy to digest and the valuable nutrients are optimally provided.
The force of nature for body and soul
For a natural, balanced diet
Tested premium quality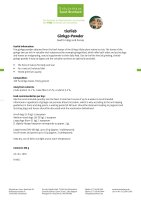 Download product information
Composition: 100 % Ginkgo leaves, finely ground.
Analytical contents: Crude protein 13.1 %, crude fibre 14.5 %, crude fat 5.4 %.
Feed recommendation per day: Mix the recommended quantity into the feed. A treatment course of up to 6 weeks is recommended.
Information: Ingredients of ginkgo can promote blood circulation, which is why according to the anti-doping guidelines in horse and dog sports, a waiting period of 48 hours should be observed. Feeding to pregnant and lactating dogs and horses should be discussed with the veterinarian beforehand.
Small dogs (1-9 kg): ½ teaspoon
Medium-sized dogs (10-30 kg): 1 teaspoon
Large dogs (from 31 kg): 2 teaspoons
(1 slightly-heaped teaspoon corresponds to approx. 2 g).
Large horses (500-600 kg): up to 30 g (approx. 3 tablespoons).
Small horses and ponies up to 20 g (approx. 2 tablespoons).