Orange Multi Purpose Cleaner Concentrate
Art. No.: 266
1 litre
8,57 €
from 3 items
now only

7,86 €
Incl. VAT plus shipping costs
Extra strong, marvellous fragrance
Also removes stubborn dirt, grease, unpleasant odours and deposits
Provides a radiant shine
Leaves behind a naturally fresh, vitalising fragrance
Provides a completely natural way for an efficient cleaning power
Super strong, delightfully fragrant general cleaning concentrate, with natural, grease-dissolving agents of oranges.
Orange Multi Purpose Cleaner can be used for floors, tiles, dishes, sinks, furniture, etc. Also removes persistent dirt, grease, odours, built-up sediments and gives a brilliant shine. The contained cold-pressed orange oil leaves a natural-fresh, exhilarant scent. The fat-dissolving properties of orange oil provide a completely natural way for an efficient cleaning power without the addition of aggressive bleaching agents, optical brighteners, phosphates, acids or alkalis.
Orange Muli Purpose cleaner is not corrosive and therefore suitable for all surfaces in the household. All tensides are completely biodegradable.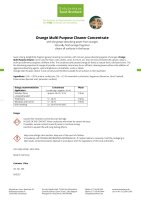 Download product information
Ingredients: 15% - <30 % anionic surfactants, 5% - <15 % nonanionic surfactants, fragrances (limonene, citral, linalool). Preservatives (benzoic acid, potassium sorbate).
Easy to use: Orange Multi Purpose Cleaner Concentrate is the perfect solution to any dirt particles and can be dosed to fit all demands. Strong dirt requires a higher dose of the concentrate, light dirt requires a lower concentration. Find your own dosage level - it is very easy!
Dosage recommendation:
Application

Concentrate
1 screw cap = approx. 10 ml

Water

Wooden floors unsealed/sealed

approx. 10 ml / 5 ml

7 litres

Tiled floors

5 – 10 ml

7 litres

Windows and frames

5 – 10 ml

7 litres

Dish washing

ca. 10 ml in the sink