Peeling Cream
Art. No.: 1309
50 ml
4,99 €
(for every 1 litre = 99,80 €)
Incl. VAT plus shipping costs
Gentle exfoliating body scrub carefully removes dead skin cells without causing irritation
With musk rose oil, shea butter and jojoba oil
Particularly for sensitive and dry skin
Now with improved formula!
The gentle peeling compound of jojoba wax helps to strip the dead skin cells without irritating the skin. Valuable vegetable oils such as Musk rose produced out of the kernels of the in Chile wild growing Rosa mosqueta, shea butter and jojoba oil give you skin complete care so that you feel like as if you would have put some lotion on. This Exfoliation Cream consists of purely herbal raw materials and is suitable for all skin types, especially for sensitive and dry skin.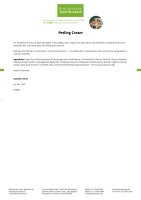 Download product information
Ingredients: Aqua, Rosa Moschata Seed Oil, Butyrospermum Parkii Butter, Simmondsia Chinensis Seed Oil, Glyceryl Stearate, Cetearyl Alcohol, Sericin, Hydrogenated Jojoba Oil, Tocopherol, Glycerin, Potassium Sorbate, Benzyl Alcohol, Sodium Cetearyl Sulfate, Citric Acid, Perfume, CI 77289, Citrus Sinensis Peel Oil Expressed (Limonene – from natural essential oil).