tierlieb Paw Ointment 15 ml
Art. No.: 96122
15 ml
1,76 €
(for every 1 litre = 117,33 €)
Incl. VAT plus shipping costs
Tierlieb Paw Ointment protects against rough paws

Beneficial care and protection for the whole year round

Harmless if licked off; does not contain mineral oils
Dogs' paws should be regularly inspected and cared for. Tierlieb Paw Ointment protects against rough paws and regulates humidity. The beneficial oils in the ointment prevent inflammation and care for the sensitive skin. In winter, Tierlieb Paw Ointment protects reliably against drying and cracks on paws, caused for example by de-icing salt, dirt and grit.
Beneficial care and protection for the whole year round
Harmless if licked off; does not contain mineral oils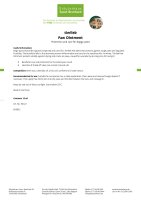 Download product information
Composition: Bee's wax, calendula oil, arnica oil, sunflower oil, hazel extract.
Recommendation for use: Suitable for occasional care or daily application. Clean paws and remove foreign objects if necessary. Then apply Paw Ointment onto the paws and the skin between the toes, and massage in.