tierlieb Anti-Stress Dog Tablets
Art. No.: 992
340 tablets
Was

18,50 €

now only

15,14 €

from 3 itmes
was

16,82 €

now only

13,45 €
-18%
Incl. VAT plus shipping costs
Supports nerves and well-being

Supports motivation and concentration capability
No anaesthetic effect
With Camomile extract and ginger
Supplementary feed with magnesium, vitamin B and tryptophan.
Everyday situations such as being alone, loud noises or travelling can be problematic for frightened or insecure dogs. A balanced supply of nutrients is important for inner balance and well-being. Magnesium, vitamin C and the B vitamins support normal, healthy functioning of the nervous system and sensory perception. The amino acid tryptophan is a component of enzymes and provides the basis for the hormone serotonin. Anti-stress tablets help to supply the decisive nutrients in stressful situations and thus support the well-being of the dog. This enables the dog to learn to master critical situations and keep calm.
Supports nerves and well-being

Supports motivation and concentration capability
No anaesthetic effect
With Camomile extract and ginger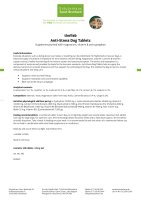 Download product information
Analytical contents: Crude protein 15.7 %, crude fat 1.3 %, crude ash 35.2 %, crude fibre 15.3 %, calcium 8.7 %, sodium 0.3 %.
Composition:Minerals, Yeast, Magnesium salts from fatty acids, Camomile extract 0.4 %, Ginger 0.2 %,
Nutrition physiological additives kg:L-Tryptophan 70,000 mg, L-Lysine Monohydrochloride 50,000 mg, Vitamin C 10,000 mg, Calcium-D-Pantothenate 2,800 mg, Niacinamide 2,700 mg, Zinc (Protein Hydrolysates Zinc Chelate) 2,400 mg, Vitamin B2 (Riboflavin) 1,400 mg, Vitamin B6 (Pyridoxinhydrochloride) 440 mg, Vitamin B1 430 mg, Folic Acid 55 mg, Biotin 25 mg, Vitamin B12 (Cyanocobalamin) 7,200 µg.
Feeding recommendation: 1 nutritional tablet 3x each day per 10 kg body weight over several weeks. Maximum 3x4 tablets each day for large dogs.
For optimum care, anti-stress tablets should be taken with a little water approx. 30 min before stressful situations. A break in feeding should be taken once per week. The ration can be slowly reduced once behaviour improves.