Q10 Cell Fit 100 mg - glass bottles
Art. No.: 24
triple package for 3 months (3x30 bottles of 20ml each)
110,42 €
(for every 1 litre = 61,34 €)
Incl. VAT plus shipping costs
Optimises the daily nutrition with vital substances
For maintaining health and supporting the defence mechanisms
Q10 plays a role in the conversion of nutrients into energy
Each small glass bottle contains 100mg of the natural coenzyme Q10, 500mg of royal jelly, 55µg of selenium out of natural selenium yeast, 200mg of vitamin C, 200mg of L-Carnitine and 50 I.U. of vitamin E. Coenzyme Q10 is an important component of our daily food. The vitamins C and E and selenium contribute towards protecting the cells against free radicals or oxidative stress.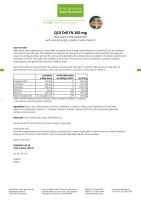 Download product information
per bottle
(=daily dose)

of the daily intake according to NRV*

pro 100 g

Coenzyme Q10

100 mg

**

465 mg

L-Carnitine

200 mg

**

929 mg

Royal jelly

500 mg

**

2323 mg

Selenium

55 µg

100

256 µg

Vitamin C

200 mg

250

929 mg

Vitamin E (alpha-TE)

33.5 mg (50 I.U.)

279

156 mg
* NRV = Nutrient reference value for the daily intake according to VO (EU) No. 1169/2011
** No reference value has yet been established
Ingredients: Water, Juice-concentrate made from chokeberry, strawberry, blackcurrant, blackberry and elderberry; Agave nectar, Royal jelly, Vitamin C, L-Carnitine, Vitamin E Acetate, Coenzyme Q10 (0.47 %), Preservative potassium sorbate, selenium yeast.
Directions: Take 1 bottle daily. Shake well before use.
Do not use if you have asthma or a known allergy to Royal Jelly.