Prenatal 2 Pregnancy & lactation
Art. No.: 845
100 tablets
12,62 €
from 3 items
now only

11,21 €
Excl. VAT plus shipping costs
For the different needs for nutrients from the 13th week of pregnancy and during breastfeeding.
With folic acid, iodine, c

alcium, vitamin C, zinc and B-vitamins
Nutritional supplement with folic acid, iodine and other important nutrients. From the 13th week of pregnancy and during breastfeeding.
In the 13th week of pregnancy, the child's development is already well advanced and it results in a different need for important nutrients. This is needed by the unborn child for rapid growth, for example, with vitamin D and calcium playing an important role in skeletal ossification and bone growth. Zinc is essential for protein synthesis and cell division, affects the transfer the genetic information and contributes towards normal eyesight. Iodine contributes to normal production of thyroid hormones and normal thyroid function. Folic acid plays a role in cell division as well as blood formation and contributes to the growth of maternal tissue during pregnancy. This concerns, for example, the placenta, which supplies the baby with all important nutrients in the womb.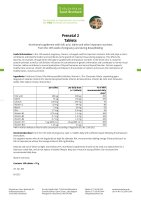 Download product information
Ingredients: Tricalcium citrate, microcrystalline cellulose filler, vitamin C, zinc gluconate, rice extract separating agent, rice shell; gum arabic filler, sunflower oil; niacin, vitamin D3, vitamin B6 hydrochloride, vitamin B1 mononitrate, vitamin B2, folic acid, potassium iodide, vitamin B12.
 

per tablet

per daily dose

(= 2 tablets)

% of NRV recommended daily dose*

Per 100 g tablets

Folic acid

200 µg

400 µg

200

25 mg

Iodine

75 µg

150 µg

100

9 mg

Calcium

138 mg

276 mg

35

17 g

Vitamin C

32 mg

64 mg

80

 4 g

Niacin

5 mg

10 mg

63

0.6 g

Zinc

1.7 mg

3.4 mg

34

0.2 g

Vitamin B1

0.55 mg

1.1 mg

100

0.1 g

Vitamin B2

0.7 mg

1.4 mg

100

0.1 g

Vitamin B6

0.7 mg

1.4 mg

100

0.1 g

Vitamin D3

5 µg

10 µg

200

0.6 mg

Vitamin B12

1.25 µg

2.5 µg

100

0.2 mg
*NRV = Nutrient Reference Value for daily consumption according to Regulation (EU) No. 1169/2011
Recommended dose: From the 13th week of pregnancy: take 1-2 tablets daily with sufficient fluid, following the physician's instructions.
For pregnant women who do not (regularly) eat high-fat saltwater fish, we recommend adding omega-3 fatty acids (such as fish oil capsules) to achieve the average intake of 200 mg DHA/day.
Not suitable for children and young people under 17 years of age.