Organic Argan Oil · cold pressed
Art. No.: 660
100 ml
9,53 €
(for every 1 litre = 95,30 €)
Incl. VAT plus shipping costs
Gourmet edible oil for cooking connoisseurs with a slight nut aroma
Particularly good for refining salads and hot dishes
Can also be taken alone
This valuable Organic Argan Oil form the moroccan Argan Tree consists of approximately 80 % of biologically active unsaturated fatty acids, particularly linoleic and oleic acid, that contribute to the preservation of a normal cholesterol level in the blood (from 10 g linoleic acid/day) which corresponds to about 30 g of Organic Argan Oil. With its typical flavor it is particularly suitable for refining salads and warm dishes but it can also be used undiluted (1-3 teaspoons daily).
Well suited for external care of dry and rough skin.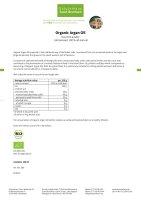 Download product information
---
Argan Oil, cold pressed, 100 % all-natural, from controlled organic cultivation.
Average nutrition value

per 100 g

Caloric content

3770 kJ / 900 kcal

Fat

of which are:

100 g

saturated fatty acids

< 20 g

monounsaturated fatty acids

ca. 45 g

of which is oleic acid:

ca. 43 g

polyunsaturated fatty acids

ca. 40 g

of which is linoleic acid:

ca. 35 g

carbohydrates

0 g

protein

0 g

salt

0 g