Omega 3 Fish Oil Capsules 500 mg
Each capsule contains 500 mg of precious fish oil
With over 30% natural, polyunsaturated omega-3 fatty acids
Polyunsaturated fatty acids in the diet contribute to maintaining normal cholesterol levels in the blood
Each capsule contains 500 mg of valuable salmon oil with over 30% of natural, polyunsaturated Omega-3-fatty acids EPA (ca. 18%), DHA (ca. 12%) and DPA (ca. 2.5%).

As necessary, essential nutrients, Omega-3 fatty acids cannot be produced by the human body and therefore should be consumed regularly in foods. Important representatives of Omega-3 fatty acids are DHA (docosahexaenoic acid) and EPA (eicosapentaenoic acid), which are proven to contribute towards a healthy, normal heart function (from daily intake of 250 mg). The substitution of saturated fatty acids with multiple unsaturated fatty acids in the diet also supports maintenance of normal cholesterol level in the blood. We have cleverly supplemented the capsules with natural vitamin E, which contributes towards protection of the cells with its antioxidant effect.
Recommended daily dose: 6 capsules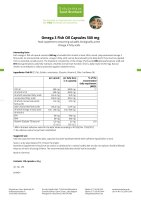 Download product information
Ingredients: Fish oil (72,5 %), gelatin, glycerin moisturiser, Vitamin E, filler: sunflower oil.
 

per capsule

per daily dose

(=6 capsules)

% des % of the recommended daily requirement

(NRV)*

per 100 g capsules

Fish oil

500 mg

3000 mg

**

72 g

of which is fat

500 mg

3000 mg

-

72 g

of which saturated fatty acids

136,5 mg

819 mg

-

20 g

unsaturated fatty acids

308,5 mg

1851 mg

-

45 g

of which monounsaturated fatty acids

112 mg

672 mg

-

16 g

poly unsaturated fatty acids

196,5 mg

1179 mg

-

28 g

of which Omega-3 fatty acids

min. 150 mg

min. 900 mg

-

min. 22 g

of which is

 

 

 

 

EPA

90 mg

540 mg

-

13 g

DHA

60 mg

360 mg

-

9 g

Vitamin E (alpha-TE) natural

3,5 mg

(5 I.E.)

21 mg

(30 I.E.)

175

507 mg
* NRV = Nutrient reference value for the daily intake according to VO (EU) No. 1169/2011
** No reference value has yet been established
Suggested use:
Take two capsules three times daily. Capsules should be swallowed whole with sufficient liquid before a meal.